Welcome to the official wiki for Mighty Moshin' Emo Rangers, a Britoku comedy from 2005-2015 that went from obscure web fad to MTV show and back again. Wonder what happened on it? Who was whom? What the cast and crew have done with their lives since then? You'll probably find it here!
Characters
| | | | | | | |
| --- | --- | --- | --- | --- | --- | --- |
| Ross | John | Luke | Stef | Viken | Fai | Mary Jane |
| Captain Emohead | Emo 5 | Evil Empress | Colonel Crusher | Funky Monkey | Santa Bot | Evil Chronic Stoner |
| Mr. Fluffy | Sold Ya' Kid | AvrilBot | New Rave Pirates | Burger Clown | Uncle Cuddles / Fiddles | Evil Principal |
Chris Phillips

Learn more about the man whose vision started it all here.
Nick Pittom

Stunt coordination, props, effects, animations, writing, Nick was critical to the show's success. Find out more!
Actors portraying Rangers and mentor
Others
Learn more about other members of the cast
here
.
Films
TV - Season 1
TV - Season 2
Mighty Moshin' Emo Rangers: The Video Game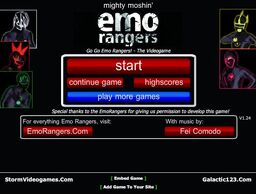 Learn more here about the Flash game based on the original short film that amused the world!
Emo Rangers for The Sims 4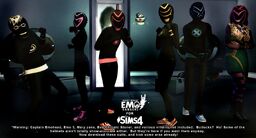 Visit this page on DeviantArt to unlock Moshin' Time in your copy of The Sims 4! Brought about courtesy of Dozerfleet Labs.
Because of course there will be!
Volkonir Meets the Power Rangers (and the Emo Rangers!)
| | |
| --- | --- |
| | Learn more here about this outrageous crossover in which the Emo Rangers meet a guy in a magic knight suit, and get to fight a daywalking vampire with an Irish name and Russian accent, and get to team up with the 1993 Power Rangers and the 2017 film Power Rangers! Plus, a few other weirdos. And it was nearly all made in The Sims 4! |
Emo Rangers on Total Drama Island
This story by Alienphantom of FanFiction.net asks but one simple question: What if a bunch of Total Drama Island contestants suddenly became new Emo Rangers? What's even going on here?
You can find Emo Rangers music by Fei Comodo on Soundcloud. Learn what you can about the soundtrack here as well!
EmbedVideo received the bad id "http://soundcloud.com/emorangers/sets/emo-rangers" for the service "soundcloud".
Fun facts
Funky Monkey is a parody of multiple villains from Power Rangers rolled into one!
When Ross randomly yells out "Damn you!" to Funky Monkey, several similar lines are spoken by both Rangers and monsters in Super Sentai quite often - just, in Japanese.
Other Toku Wikis
Want more toku in your life than Emo Rangers can offer? These guys have got you covered!!
| | | |
| --- | --- | --- |
| | Of course the Power Rangers would have their wiki linked here! Without them, there'd be no Emo Rangers, right? | What list of toku wikis would be complete without some mention of Kamen Rider? |
| All those wonderful Japanese classics, plus the BeetleBorgs and VR Troopers for good measure. | Because they're too cool not to list! | Did we miss anything? Chances are, these guys have it! |
Statistics
Wiki on Wikia created: 2009
Archive of information on one of the most successful parodies of Power Rangers in history.
62 content articles to date
9 episodes documented!
2 films documented!
and more!
Polls